I am a destroyer. I cannot keep one for more than a month or two before it dies a most horrible death. It is never a quick death either, when I kill one. It dies slow and painfully, reviving itself from near death on numerous occasions before finally expiring, giving up on existence, ceasing to be, here no longer. (No, I'm not talking about a puppy)
My name is Kellie and I am an iPhone charger murderer.
I manage to murder chargers in horrible ways, and I have all the guilt. I can kill official Apple leads, I can kill cheap ones, I do not discriminate. I kill them ALL.
I am currently the owner of two chargers. cheap ones this time, and both have decided today that they have served me enough juice, and are now on their way to the great Apple store in the sky.
Which is sad............
BUT I NEED TO CHARGE MY PHONE AND MY iPAD. I DO NOT HAVE TIME FOR THIS.
I have become skilled at trying to sustain the life of an iPhone charger. My current trick is the "sneaking up on the charger and plugging it in quickly" trick. (This sometimes works, sometimes it doesn't)
Also, another tried and tested method is plugging it in and unplugging it a million times before finally getting it to charge.
(Making sure that you do not turn the bloody thing off again as you know it won't charge the next time you switch it on)
You can also try bargaining with it. This involves sneaking up on the aforementioned charger, plugging it in quickly and switching it on and off while begging it to work. iPhone chargers are notoriously cruel and able to ignore this method on most occasions.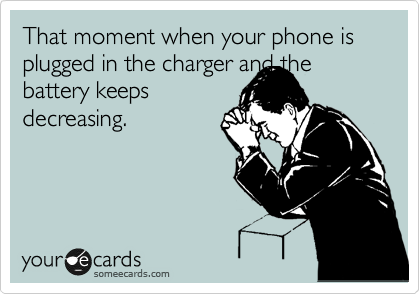 Now, it is time to go HARDCORE.
"Why don't you work, you cheap piece of crap?" is my go-to question for my iPhone charger when it is on it's way out, or "I paid twenty quid for you, you useless piece of crap and you don't work any better than an eBay charger, SHAME ON YOU, I say"
I do get strange looks in Costa, I must admit.
Am I alone in being a murderer of iPhone chargers?
I can't be, can I?
How do you sustain the life of your charger, let me know. I cannot stand to murder another one...... (after these two, that is, there is no hope for these two)
Let me know.
Big Fashionista x x